Note: Kalendar is still under heavy development. You're free to poke around and try it out, but it is not yet final software! If you want to contribute to its development, join us in Kalendar's Matrix room.
This week, we have added a host of improvements to Kalendar that should make using it on a touchscreen a significantly nicer experience. To demonstrate, we are going to show Kalendar running on the Pinephone!
We also have a number of usability improvements on the desktop, additions to the todo view, and some performance improvements. Here we go!
Improving usability of touchscreens
!27: Mobile touch fixes and improvements (Claudio Cambra)
!29: Turn month view into a PathView (Claudio Cambra)
After briefly trying out Kalendar on the Pinephone over the course of the week, we found the experience finicky. This week, then, we have a couple of fixes. I'll let this video do most of the talking:
A significant improvement to the interaction areas for incidences should improve navigation on a touch screen.
A bigger change is the implementation of the Month View as a PathView. Put simply, this lets us put several month grids on a path that you can swipe through. This has two effects: you can swipe through months on a touchscreen in a pretty intuitive manner, and on the desktop you also get nice animations!
Improving our use of space on the desktop
!25: Add simple global menu (Carl Schwan)
!31: Add sidebar to Kalendar (Felipe Kinoshita)
If you use Plasma's global menu, you'll be pleased to hear that we have added support for it this week! You will now be able to use a slickly-integrated menu for all your needs while using Kalendar. This menu has all the typical actions you will frequently use: adding new events/todos, undo/redo, etc.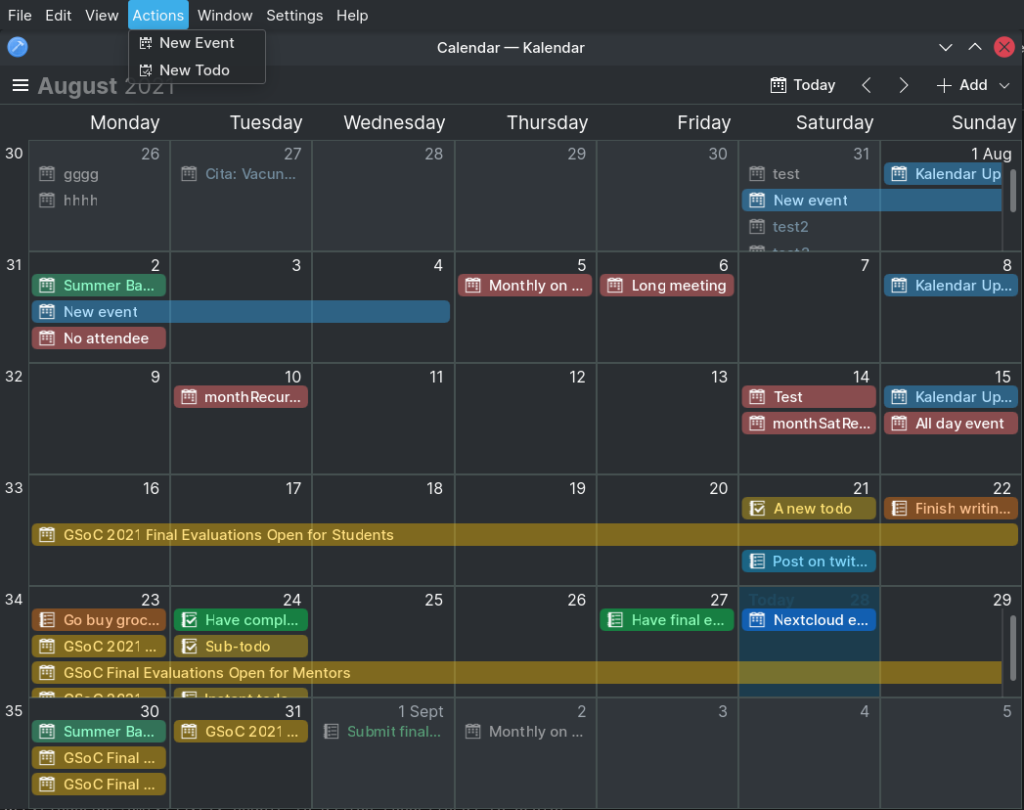 We have also included a new left sidebar that will make navigation and interaction significantly easier, especially on the desktop. This sidebar gives you actions to quickly access each of Kalendar's views and to filter your calendars, making use of the ample space on your desktop screen to make things more accessible. Its behaviour also changes depending on the view you are currently in: in the month and schedule views, it presents you with all your calendars and lets you enable/disable them; in the todo view, you are simply presented with your todo calendars which you can not only enable/disable, but also click on to access only the todos in said calendar.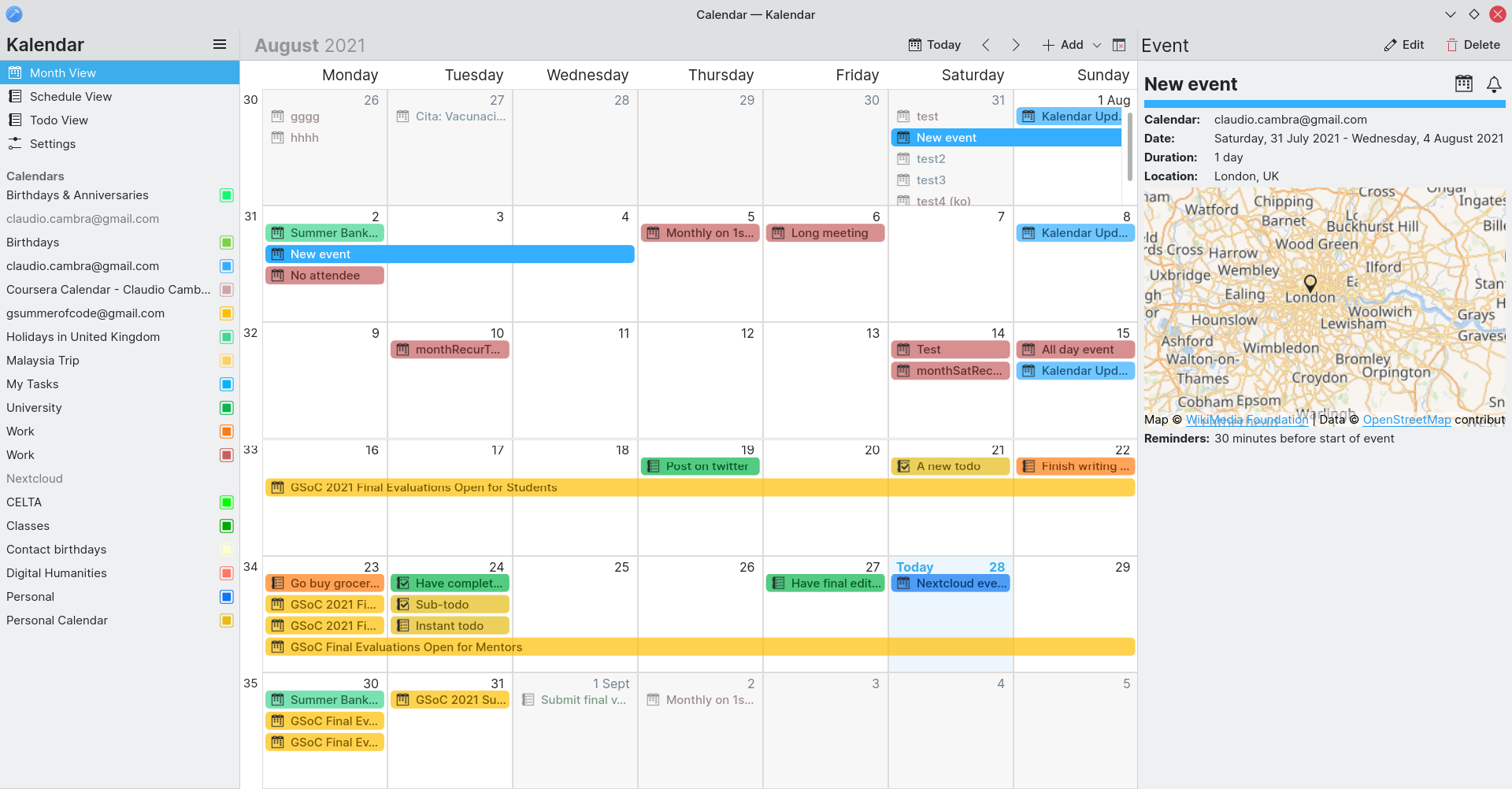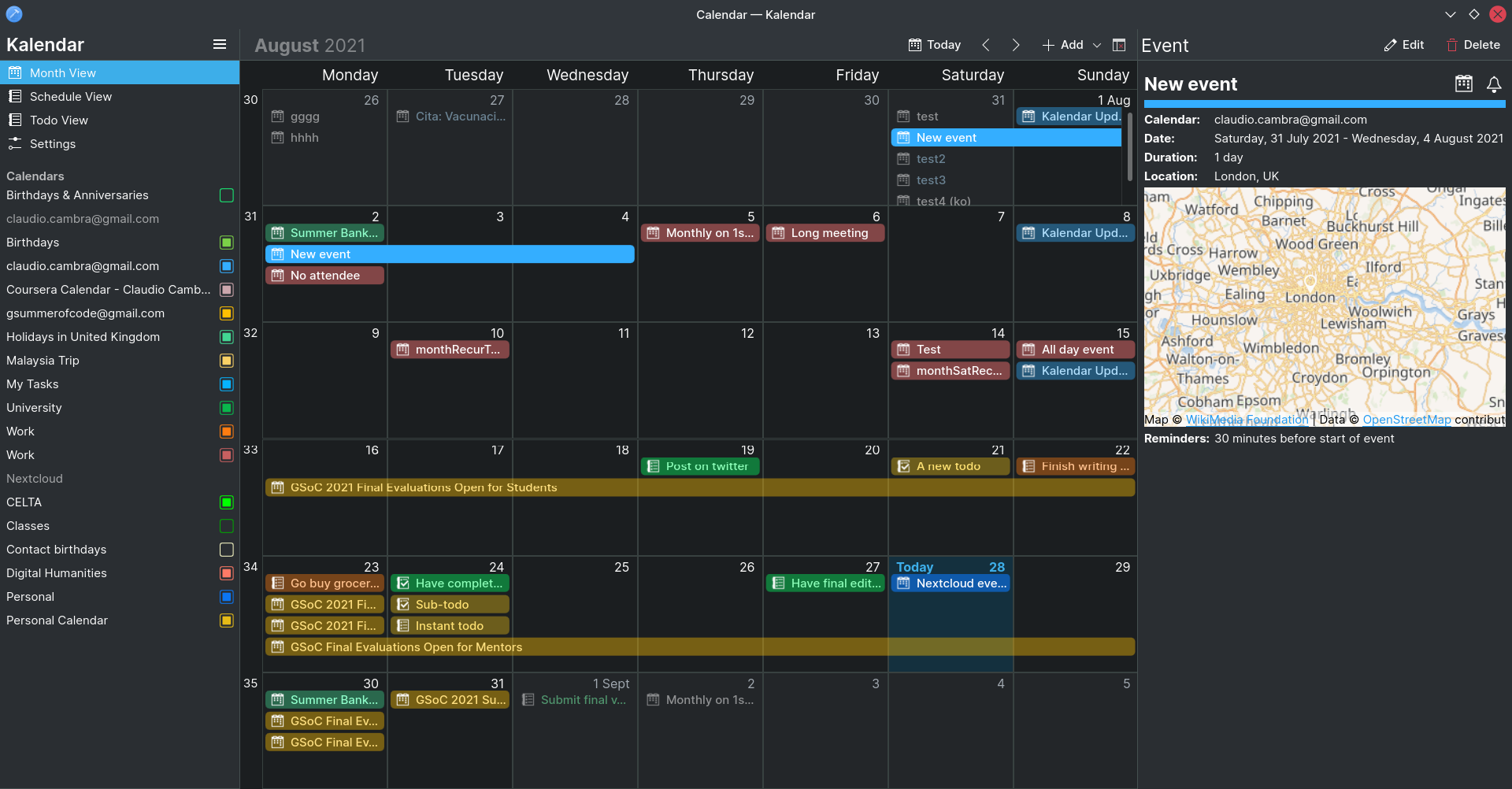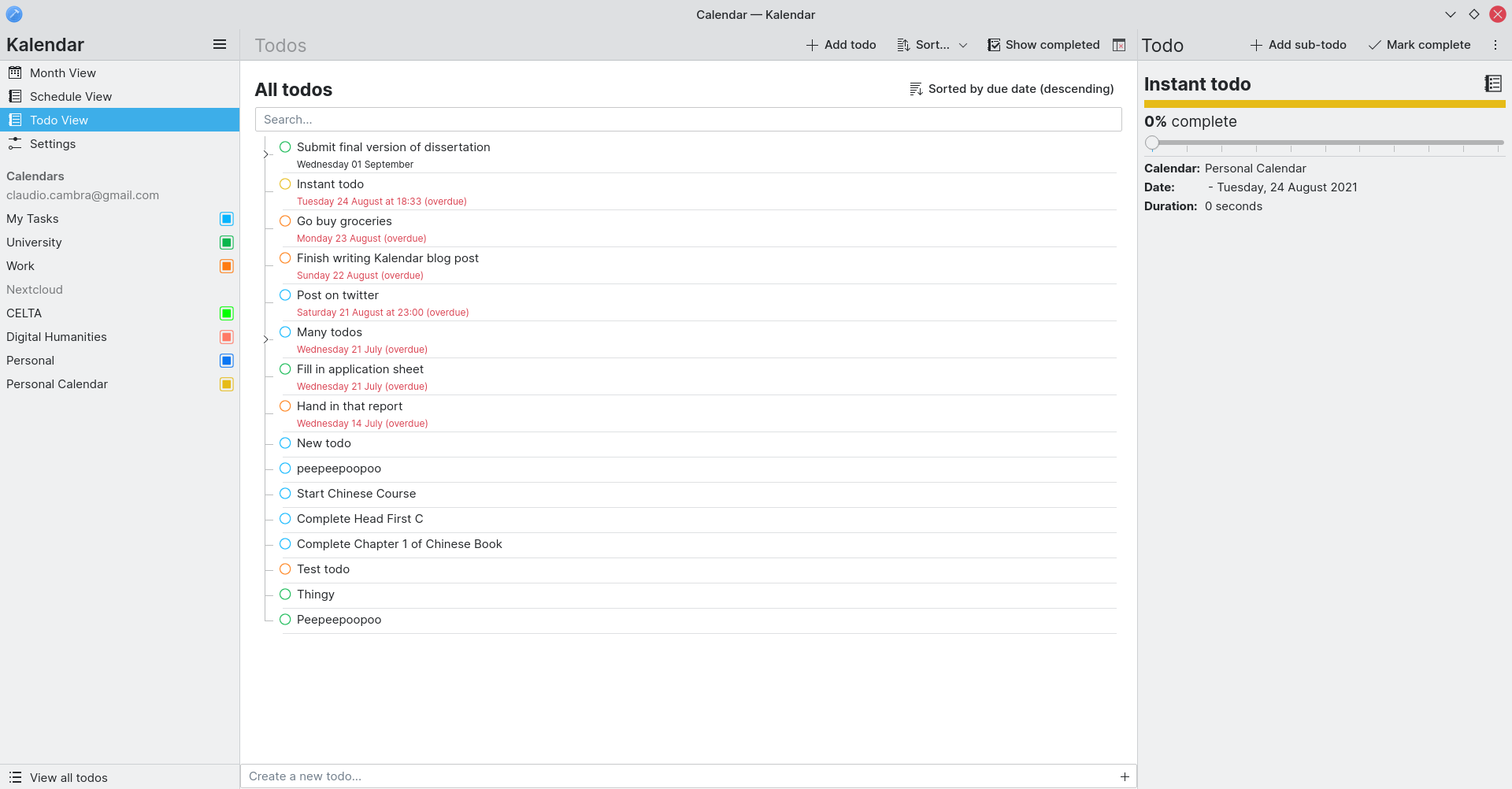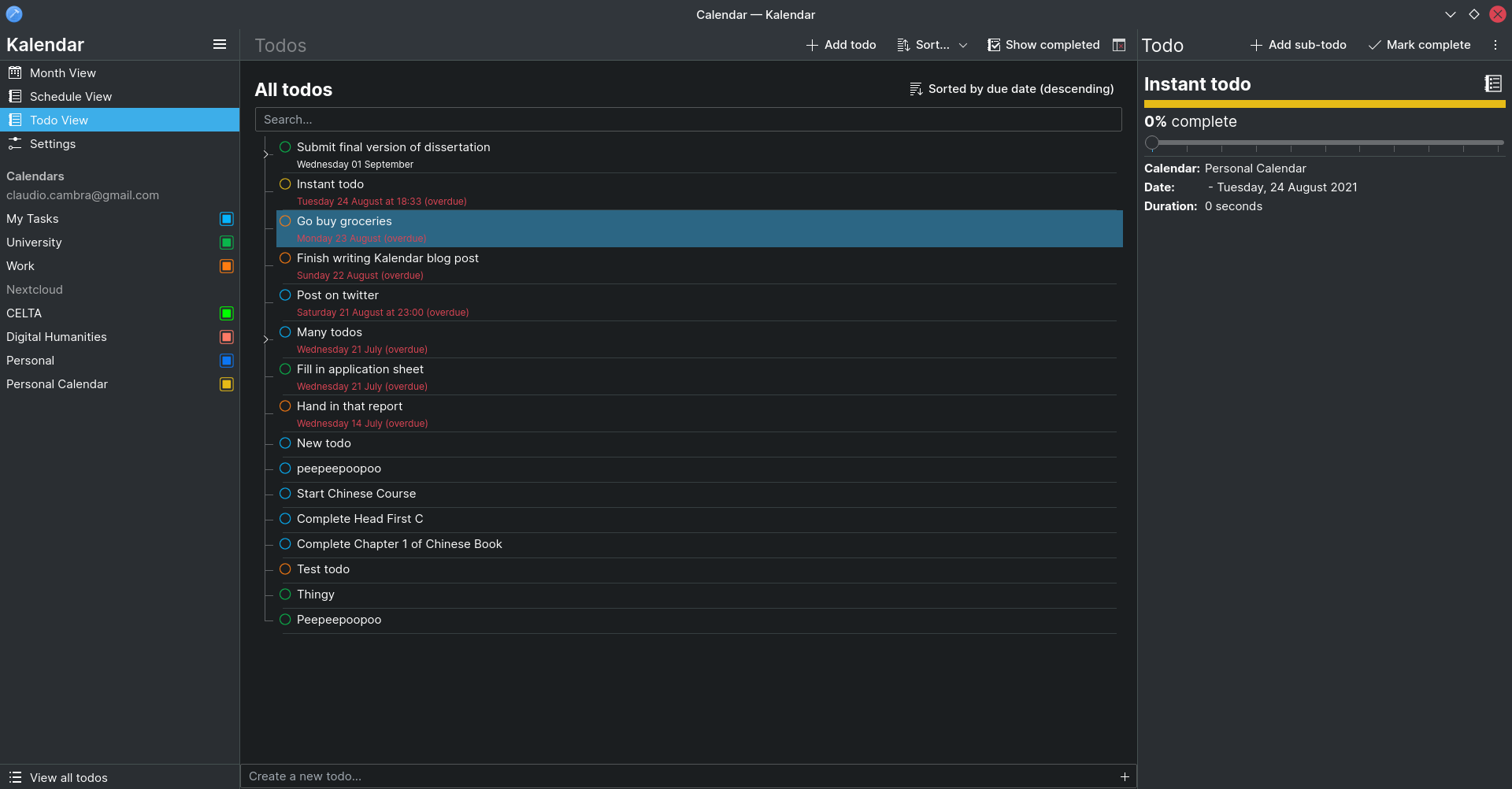 Making todos faster and more powerful
!21: Add a specialised todo view to Kalendar (Claudio Cambra)
!24: Add more and better ways to add todos (and subtodos) (Claudio Cambra)
Last week we added a new todo view that let you easily and quickly access your todos. This week we have added some new features that will make this view even more useful.
For one, you can now add sub-todos in a variety of different ways. First, you can do this through the incidence information drawer, which shows a convenient 'Add sub-todo' button now when viewing a todo. Additionally, you can also right-click (or hold tap) on a todo and then select 'Add sub-todo' from the popup menu.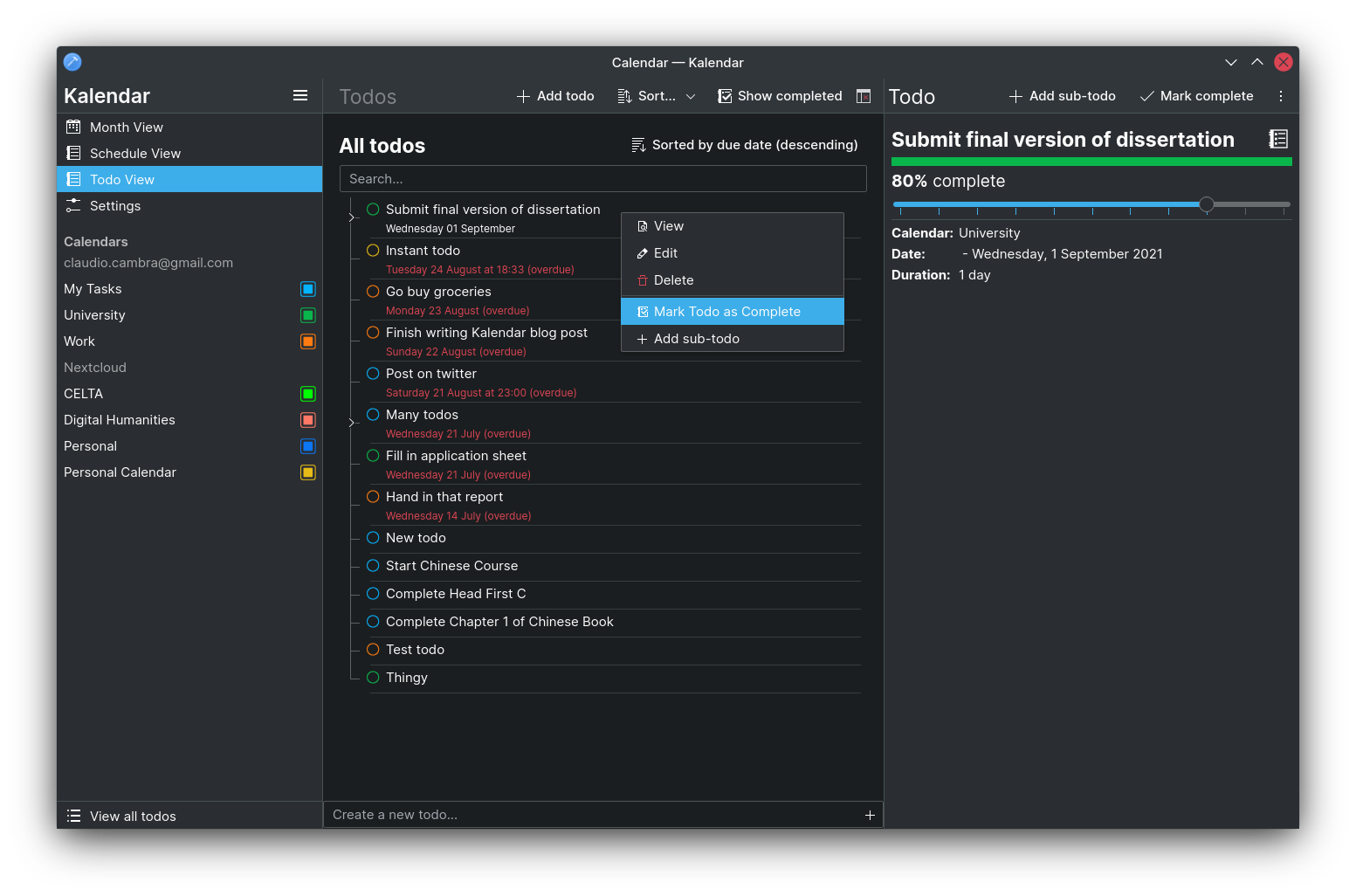 There is also now a quick-add todo text field. This lets you just write in the name of your new todo and add it instantly to the todo calendar of your choice, saving you time and effort! When viewing all your todos, you will be prompted for the todo calendar you'd like to add your todo to; when you're already looking at a particular todo calendar, it will just get added to this one.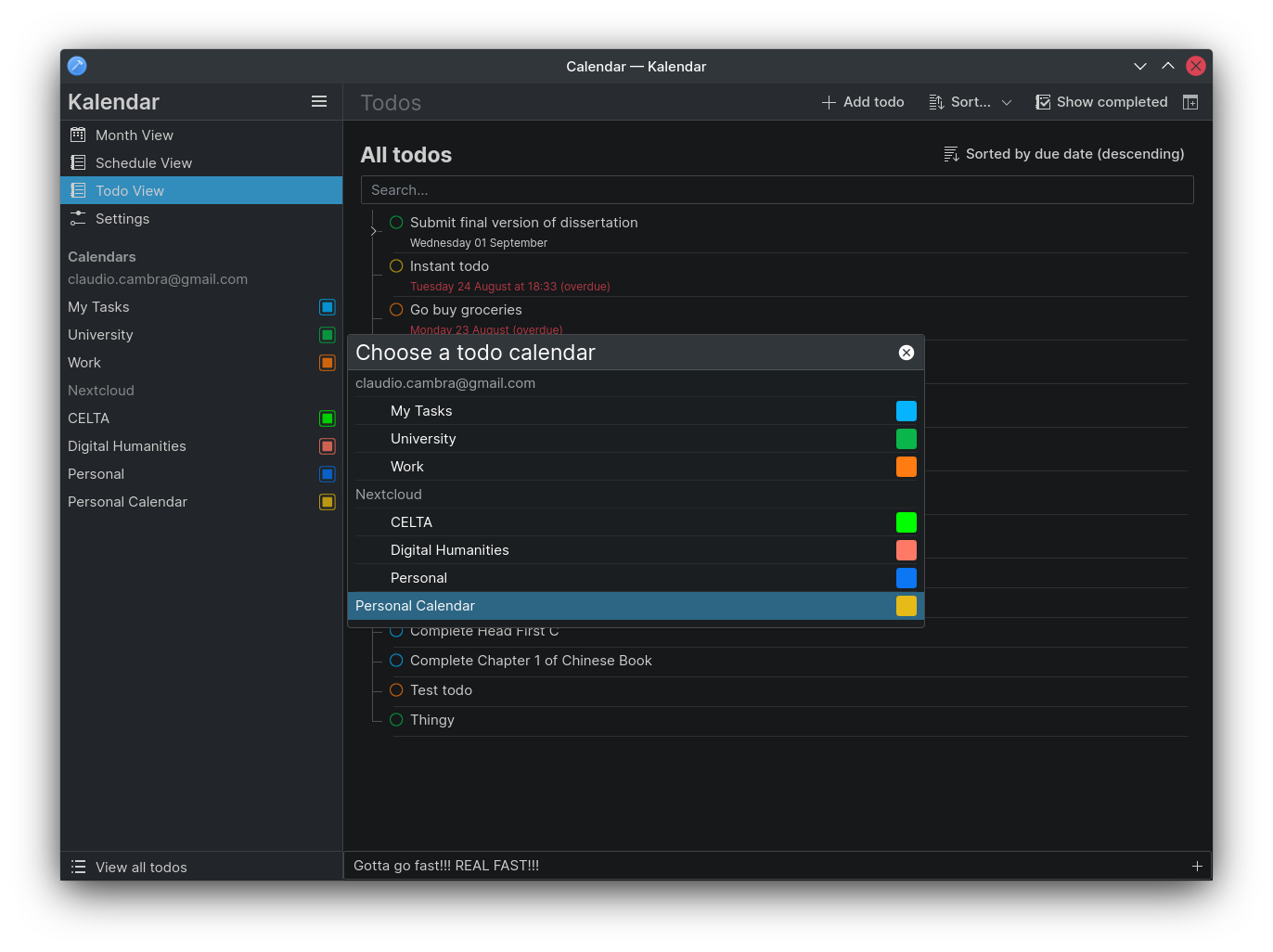 Lastly, we have also introduced a new search bar that lets you quickly search through all of your todos to find the right one.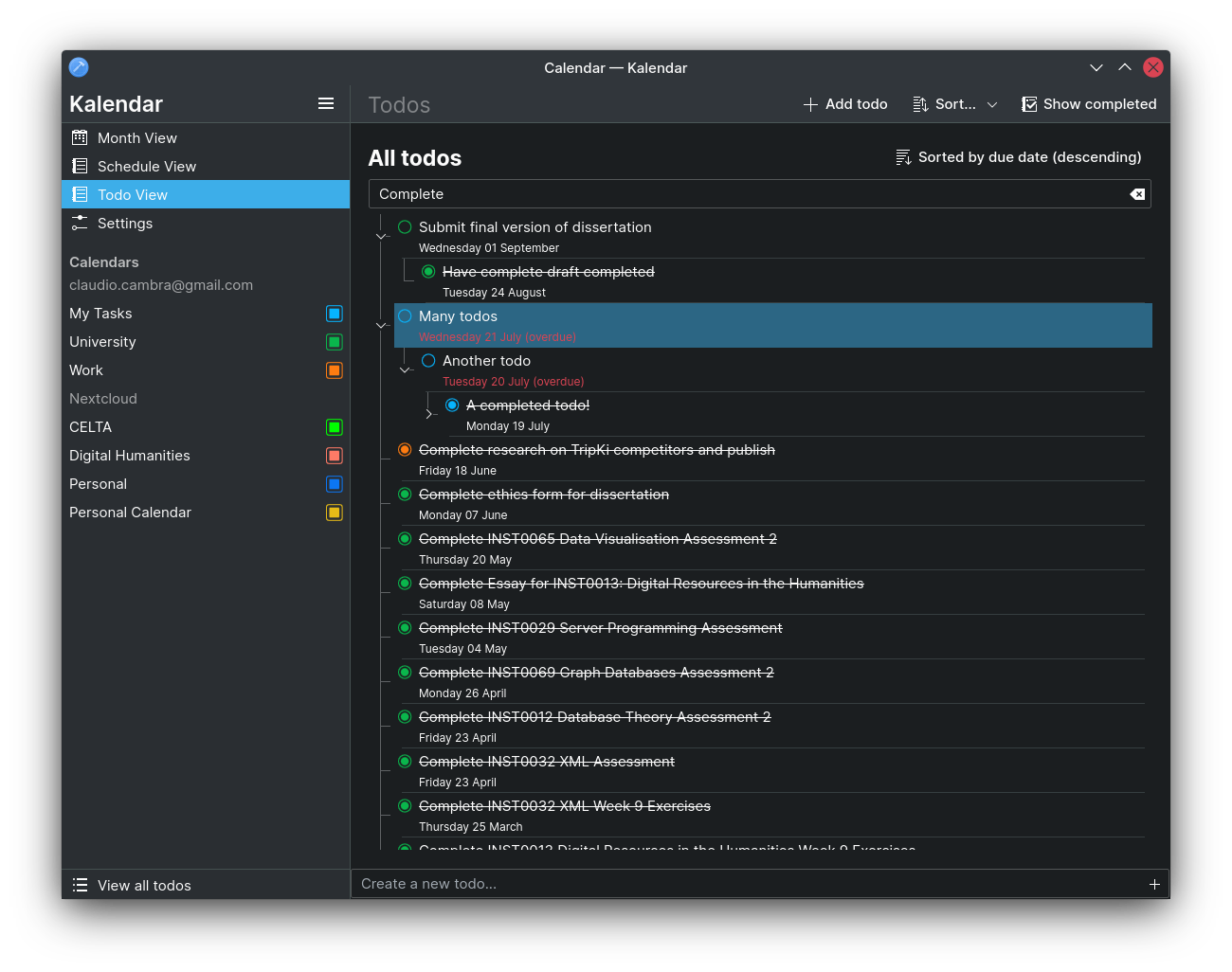 Bug-fixes and performance improvements
!21: Add a specialised todo view to Kalendar (Claudio Cambra)
Incidence info drawer button now longer overlaps with actions in toolbar (Claudio Cambra)
!Simplify and moderately accelerate IncidenceOccurrenceModel's updateFromSource()
Kalendar is now slightly faster at loading incidences
Coming up next
Now that the month view is swipeable, we want to give the schedule view the same treatment and make it a much nicer experience on mobile. We have also received numerous requests for tag support in the todo view, and we will be working on that too. There are more things in wait too 😉
Is there anything you'd like to see added to Kalendar? Get in touch! I'm @clau-cambra:kde.org on Matrix.